From 'Short Stories About Failsworth Folk' by Sim Schofield
The Photo of Thomas Parkinson, J.P. is taken from the above mentioned book, published in 1905 which mention the veterans of Peterloo, from Failsworth and other Reformers in the town.
Sim Schofield was born in the middle years of the 19th century and had memories of the hard times during the American Civil War, when the weaver's family of 6 were existing on 2/- a week. His father, Thomas, was a veteran of Peterloo, and had been had been at the meeting as a 16 year old. Sim was married to poet Samuel Laycock's daughter, the 'Bonnie Brid' of his well-known poem.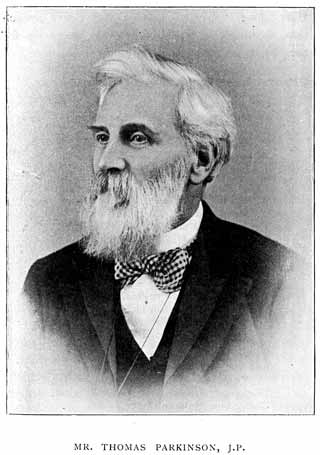 Thomas Parkinson, J.P.
RETURN to 'Stories'
Pages transcribed by Sheila Goodyear 2019